To be the best furniture manufacture.
Make a better panel furniture and make customers satisfied with our products and service.
We come up with new concept every year that is created and specially designed by experts in the field for the people of Indonesia. Manufactured with the best raw materials designed with attention to the ergonomic and functional side that provides comfort and beautiful design, and not forget to pay attention to the safety of the product.
This is evidenced by the network of cooperation and testimony from the dealers to customers who have proven the benefits of Garvani products up to now. Come and see the advantages of Garvani products in our partner showrooms spread across several major cities in Indonesia.
See & Feel the Experience of Great Living With Us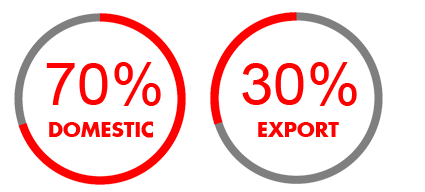 Our Market
We serve the domestic market (local sales, local project, etc.)
and export market
Why we are best?
We have been producing millions of units and thousands design
Design
With our Resarch & Development (R&D) team experience, we can make sure that the products we release have a design that meets our customers' wishes.
Material
High quality materials come from selected and trustworthy supplier. We can make sure to use the best materials that deliver the best products in quality and durability.
Quality Control
Quality control is crucial in the production process. We can ensure that the products we distribute have met strict quality control requirements.
Become Buyer
We commited to gives you the best quality and design with a reasonable price.
Please fill some data we need.
Become Supplier
We also open the opportunity to become our partner as a supplier.
We only need some data that you need to fill out and we will take care of the rest.